MEETINGS
Final Budget Hearing 09 27 2023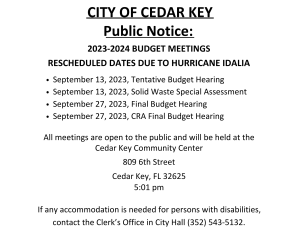 Until further notice, all commission meetings and workshops will be held at 5:00 pm
WE ARE NOT ABLE TO ZOOM MEETINGS AT THIS TIME
Join City Commission Zoom Meeting
Meeting ID: 914 8577 0305, Passcode: 591402
View prior meeting information and notices
NEW – SIGN UP NOW FOR SAVVY CITIZEN!
https://savvycitizenapp.com/citizen

FACEBOOK
NOTICES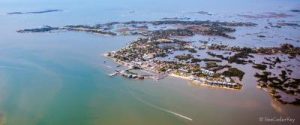 Learn about strategies for resilience in Cedar Key. This project identifies strategies to address sea level rise resilience and storm mitigation.
JOB OPPORTUNITIES
Are you looking for a new job with stable hours, a competitive salary, unbeatable benefits, and great people to work with? A successful career with the City of Cedar Key is closer than you think. For information on current career opportunities, browse our job listings on our Human Resources page.
ABOUT CEDAR KEY
Cedar Key derives its name from a 1542 Spanish map that named the area as "Las Islas Sabines,", "The Cedar Islands." The name "Cedar Islands" was in reference to the abundant growth of cedar trees that formerly covered all the barrier islands within the surrounding area. The City of Cedar Key resides on the island of Way Key four miles out into the Gulf of Mexico located 60 miles west of Gainesville, Florida.  Cedar Key can be found by following State Route 24 to the end of the road and crossing over the salt marshes and channels on four small, low bridges. The population of Cedar Key is approximately 800 full time residents.
Today Cedar Key is one of the largest producers of farm raised clams in the country and Florida oysters are available all year round. Because of Cedar Key's rural location, the water quality is exceptional. It is a haven for artists, writers and "adventure" tourists, who find the unspoiled environment their inspiration. Both aquaculture and tourism are Cedar Key's mainstay.  And yet no industry has overwhelmed the authentic old Florida charm of the keys.
Cedar Key and the surrounding islands as a National Wildlife Refuge offer Federal protection for birds and wildlife.  It is not uncommon to observe such rare bird varieties as bald eagles, white pelicans, osprey, and roseate spoonbills or families of dolphin in a spectacular natural environment.  We welcome you to visit Cedar Key and experience our island's excellent fishing, bird watching, nature trails, kayaking and coastal guided water tours.  We offer you the opportunity for dining, shopping and more.